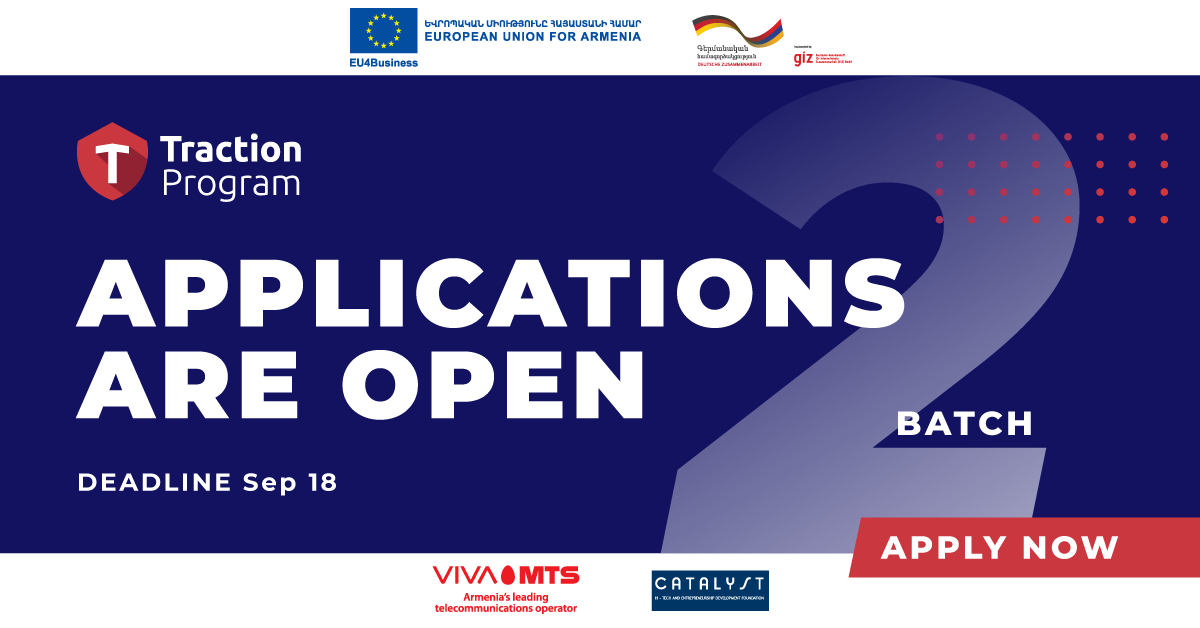 Viva-MTS: Applications for Batch 2 of Traction Programme are Now Open
The European Union and Viva-MTS support the promotion of innovative technologies through Armenia Startup Academy programme
Yerevan, August 27, 2021 – We are pleased to announce the call for applications for Batch 2 of Armenia Startup Academy Traction programme – a 10-week mentorship-based programme designed to help companies with early traction accelerate their growth and raise their first or follow-on rounds, setting the ground for expansion to the international market. The programme is implemented by Catalyst Foundation supported by the European Union's EU4Business "Innovative Tourism and Technology Development for Armenia" (ITTD) project implemented by GIZ. Viva-MTS, Armenia's leading mobile network operator, joins the initiative as a corporate partner and supporter.
The first batch of the Traction programme involved 9 startups offering solutions in such diverse fields as EduTech, logistics, HR, marketing, and more. During 150+ one-on-one individually tailored sessions entrepreneurs closely worked with international mentors and industry professionals. As a result of intensive mentorship, the startups registered noteworthy achievements, among which being recognized as Product of the Day on Product Hunt, acquiring new users, securing sales with local and international corporations, launching improved product versions, and much more. Batch 1 graduates have already raised €3M+ funding in the form of grant financing, VC and angel investments.
Traction offers hands-on mentorship in Sales, Growth Hacking and Fundraising through a need-based individual development programme. The companies establish their growth frameworks, refine and validate their strategies, get support for expanding in international markets and raise seed rounds. Additionally, up to 5 top-performing companies of Batch 2 will be eligible for receiving EU Seed Stage Grants of up to €50K provided by ITTD project. More information about the grants and eligibility criteria will be shared additionally after the programme launch.
All startups that identify themselves in the following categories are welcome to apply:
Managed to gain early traction (in terms of revenue, sales, user base, etc.);
Have already launched the product (or an MVP/working prototype) or at least ready to launch by September 18;
Have raised a minimum of €20K funding in the form of grants, angel or VC financing, or bootstrapping, or is already generating revenue (not mandatory, but preferable)
Previously graduated from an incubation/pre-acceleration programme (not mandatory, but preferable).
The call for Applications will be open until September 18, 2021. After the screening of applications, interviews will follow to finalize the selection of participating companies. Meanwhile, companies are welcome to register for the Information Session held on September 9th to learn more about the programme. The programme as well as the Info session will be held in a hybrid mode enabling both online and onsite participation. More information about the programme can be found here.
The Member States of the European Union have decided to link together their know-how, resources and destinies. Together, they have built a zone of stability, democracy and sustainable development whilst maintaining cultural diversity, tolerance and individual freedoms. The European Union is committed to sharing its achievements and its values with countries and peoples beyond its borders.
The EU4Business "Innovative Tourism and Technology Development for Armenia" project is co-funded by the European Union and the Federal Ministry for Economic Cooperation and Development (BMZ) and implemented by German Development Cooperation GIZ through the Private Sector Development and TVET South Caucasus Programme. The project is part of the EU4Business initiative of the European Union. It aims at creation and further development of investable and innovative ventures in Armenia leading to stronger and competitive tech and innovation ecosystems with potential export orientation, increased number of Science2Business2Education cooperation platforms and higher participation in HORIZON 2020 and HORIZON Europe innovation programmes.
Viva-MTS (MTS Armenia CJSC) is Armenia's leading telecommunications operator, having the widest network reach and spreading a wide range of Voice and Data services all across Armenia. Having the best of the Armenian people at heart since its launch on 1st July 2005 and in a short period of time Viva-MTS has managed to build a nationwide network and a considerable customer base. Viva-MTS drives innovation and aims at always being at the forefront of any development serving the Armenian mobile communications market.  The company follows the guidance provided by ISO 26000 (International Standard of Social Responsibility), ISO/IEC 27001:2013 (Information Security Management System) and ISO 37001 (International anti-bribery management systems standard). For more information visit www.mts.am
Catalyst Hi-Tech and Entrepreneurship Development Foundation aims to contribute to the development of the tech entrepreneurship ecosystem in Armenia. The Foundation has a number of initiatives aiming to fuel the Armenian startup ecosystem with competitive skills and develop a pipeline of capable companies, including Hero House, Armenia Startup Academy, AI Incubator, Entrepreneurial Assistant School, Startup Boost Weekends, etc.
Armenia Startup Academy is an entrepreneurship and startup education programme aiming to prepare companies to raise their pre-seed rounds and expand to global markets through its Pre-acceleration and Traction programmes. The Academy was launched in October 2017 with the support of the "Support to SME Development in Armenia" (EU-SMEDA) Project within the EU4Business initiative. Since then, the Armenia Startup Academy has mentored 266 entrepreneurs from 112 startups with the ongoing assistance of 100+ high profile professionals. The programme alumni have already raised more than €8M in the form of grant financing, VC and angel investments.