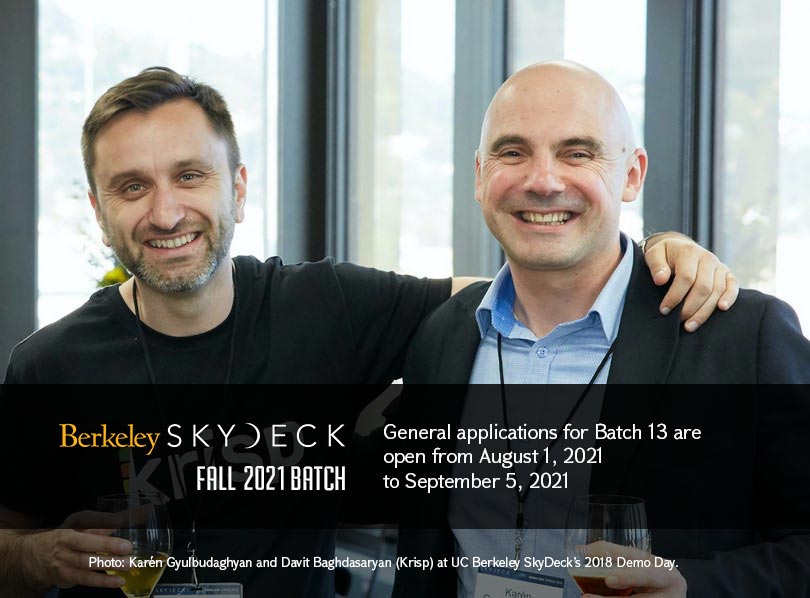 Berkeley SkyDeck accelerator accepts startup applications for Fall2021 Batch
Starting August 1, 2021, the University of California (UC) Berkeley SkyDeck accepts startup applications for their Batch 13 cohort. 
Berkeley SkyDeck has a special place in developing the Armenian ecosystem, thanks to one name- Karén Gyulbudaghyan, the founder of Strategic Value Ventures. Since 2017, Karen Gyulbudaghyan has helped transform Berkeley SkyDeck into Forbes Top-5 university accelerator globally and simultaneously opened the door to a score of Armenian startups, including Krisp, Superannotate, AppearMe, Netris, Grovf, AimHub, HireBee.ai , PlayEngine and PeaceofMind.ai. Armenian founders is now the largest SkyDeck alumni group globally.
Startups from 100 countries apply to Berkeley SkyDeck every year, yet only 1% get selected. Berkeley SkyDeck offers rich access to UC professors, research students, MBAs, laboratories, and $750,000+ in-kind resources. It provides a home base for startups to launch in Silicon Valley. In addition, SkyDeck provides access to an unparalleled network of 350+ exceptional advisors, talents, and the opportunity to pitch to over 700 investors at SkyDeck's Demo Day. Startups selected into the Cohort Program will receive a $105K investment from the Berkeley SkyDeck Fund backed by top venture capital firms like Sequoia, Sierra, and Mayfield.
Minimum requirements for the startup candidates:
MVP / proof of concept ready
global product or solution in any industry
Meaningful traction,  but pre-revenue is ok
Karén Gyulbudaghyan highly encourages Armenian deep-tech startups in AI, engineering, MedTech, biotech/life sciences, airspace, chip design, and battery to apply. He is Berkeley SkyDeck's Global Ambassador, Key Advisor, and member of the selection committee. For questions and assistance, reach out to: [email protected] or via LinkedIn.
The application for Batch 13 accelerator cohort is free. The deadline to apply is September 5, 2021, 11:59PM California time. Apply today! https://tinyurl.com/SkyDeckApplication
Stay tuned! In the coming days, Karén Gyulbudaghyan will share details about a brand new opportunity developed by Strategic Value Ventures in partnership with UC Berkeley SkyDeck. It is a 5-8 months long business development and U.S. market expansion program explicitly designed for established Armenian companies and is unprecedented for Eastern Europe / CIS countries.