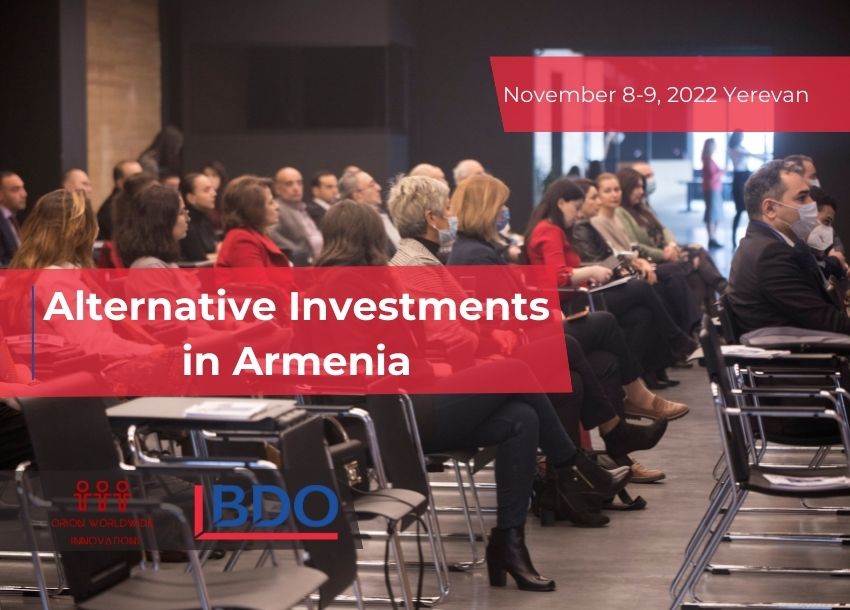 The international conference "Alternative Investments in Armenia" will take place in Yerevan
A two-day international financial conference will be held in Yerevan on November 8-9, 2022 in which investors, representatives of venture companies, family offices, financial firms, private companies, governments, and embassies will participate. The conference entitled "Alternative Investments in Armenia" is organized in cooperation with Orion Worldwide Innovations, and BDO Armenia.
The main goal of the conference is to create opportunities for the growth of alternative investment sources in Armenia. At the same time, the forum is one of the important events for the activation of the Digital Julfa Network, in addition to attracting investments for Armenian startups.
"Alternative investments have the power of enabling and recharging the economic growth of the countries. It fosters the flow of money into the economy for supporting innovation, increasing productivity, and enabling multi-generational and institutional capital management," said Aleksandr Shaghikyan, Partner, Head of Advisory at BDO Armenia.
"Private capital, corporate venture capital, and family offices can be types of alternative financing for the economy. In the asset structure of developed financial ecosystems, in addition to credit bank products, alternative investments also play a major role, through which money flows to startups, innovative projects, stimulating economic growth. One of our goals is to create new opportunities for the economy by developing the above-mentioned alternative financing sources," said Emma Arakelyan, CEO & Founder of Orion Worldwide Innovations.
Orion Worldwide Innovations, is a startup growth and ecosystem acceleration hub and offers a full-service package to make companies investable and enter the US market, enhance their customer acquisition strategies, stay competitive, and protect their innovation. Orion is a U.S.-based company that was formed in 2017, with offices in New York City, U.S., and Yerevan, Armenia, though Orion partners with companies and investor networks worldwide.
"BDO Armenia" CJSC, "BDO Accounting", "Tax and Legal" CJSC, and "BDO Advisory" CJSC are member firms of BDO International Limited, one of the largest international networks of public accounting, tax and advisory firms in the world. BDO's global organization extends across 164 countries and territories, with 95,414 people working out of 1,713 offices – and they're all working towards one goal: to provide our clients with exceptional service. Being founded in 1963, BDO was established in Armenia in 2010 and having rapidly grown since then, BDO Armenia has successfully enlarged the scale of services it renders thus ensuring its place in the Armenian market.