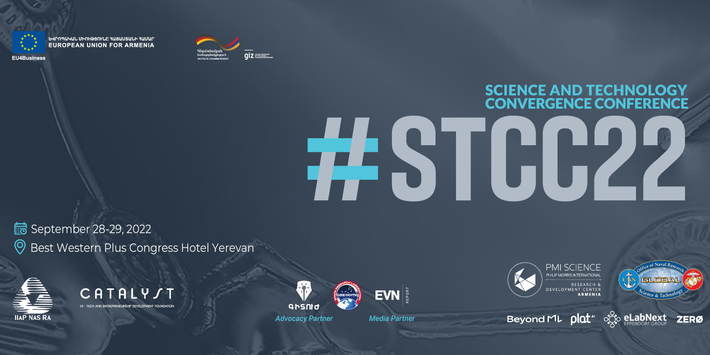 The Science and Technology Convergence Conference (STCC) 2022 will take place on September 28-29 in Yerevan
The Science and Technology Convergence Conference (STCC) 2022 will take place on September 28-29 in Yerevan, Armenia. STCC is an annual conference organized by the Institute of Informatics and Automation Problems of the National Academy of Sciences of Armenia and the Catalyst Foundation (an initiative of SmartGateVC founders) with the support of the European Union through its EU4Business "Innovative Tourism and Technology Development for Armenia" project within the framework of the Science and Technology Convergence Platform (STCP).
The conference is promoting knowledge exchange between academia and industry to strengthen the cooperation and transfer of innovations from research labs into industry that will boost the economy of Armenia.
STCC provides a platform for:
Establishment of formal collaboration schemes with leading universities in Europe and the US and creation of joint research labs with local tech companies;
Community building in niche directions to share knowledge and foster collaboration;
Building a ground for potential repatriation of required talent from leading universities among them Postdocs, Principal Investigators, Professors and Research Scientists;
Discussions of international best practices on science funding mechanisms and their possible replication in Armenia.
The conference focus areas are: Artificial Intelligence, Robotics and Control, Aerospace, and Computational Biology.
25+ panel discussions and presentations will address topics on the perspectives of development on the crossroads of West & East, Armenia's digital transformation agenda and its opportunities for the tech industry, the perspectives of research universities in Armenia,  the future of hardware engineering and autonomy research in Armenia, emerging space research programs, review of the emerging biotech sector and major catalysts for its development, diaspora resources and what's the local ground needed for the diaspora engagement, etc.
The speakers and participants will be from among the local scientific and university community, tech corporations, emerging local deep-tech startups as well as leading research institutions (University of Maryland, Leipzig, UIUC, KAUST, etc).
Some of the featured speakers are:
Naira Hovakimyan, Grafton and Wilkins Professor at UIUC, Co-founder & CS at IntelinAir
Garegin Papoian, Founder & CEO at Biosim, Monroe Martin Professor, University of Maryland
Harry Glorikian, General Partner at Scientia Ventures
Mary Papazian, Executive in Residence Past President and Professor of English, San José State University
Viken Douzdjian, Managing Partner at Argonautic Ventures
Zareh Zurabyan,​ Head of eLabNext, Americas, division of Eppendorf
Levon Budagyan, Founder and CEO at Waveye
Ashot Papoyan, Co-founder and CEO at Elm Tree Research, Managing Partner at Elm Tree Clinic
Leonid Kirakosyan, Partner at McKinsey & Company
Gnel Mkrtchyan, Director, Manufacturing Sciences and Technology at Gilead Sciences
Hans Binder, Managing Director of the Interdisciplinary Centre for Bioinformatics at Leipzig University; ABI Chairman
Arnak Dalalyan, Director at the Center for Research in Economics and Statistics (CREST)
Catalyst Foundation is established by the founding partners of SmartGateVC for running game-changing programs which will feed the Armenian startup ecosystem with relevant skillset and pipeline of capable companies. Catalyst Foundation is co-organizing Science and technologyTechnology Convergence Conference as part of its Science and Technology Convergence Platform initiative with the support of EU4BusinessEU4Business's "Innovative Tourism and Technology Development for Armenia" project. 
Institute for Informatics and Automation Problems (IIAP) is a leading research and technology development institute of the National Academy of Sciences of the Republic of Armenia (NAS RA) in the field of applied mathematics and informatics, as well as in the field of application of computing technologies in various fields of science and technology.
The EU4Business "Innovative Tourism and Technology Development for Armenia" project is co-funded by the European Union and the Federal Ministry for Economic Cooperation and Development (BMZ) and implemented by German Development Cooperation GIZ through the Private Sector Development and TVET South Caucasus Programme. The Technology Development component of the project aims at the creation and further development of investable and innovative ventures in Armenia leading to stronger and competitive tech and innovation ecosystems with potential export orientation, increased number of Science2Business2Education cooperation platforms, and higher participation in HORIZON 2020 and HORIZON Europe innovation programs.